Another European Solidarity Corps project came to an end, as we waived goodbye to Kirill and Oksana. We cannot help but to look back into the volunteers experience with us. Within the past 8 years BG Be Active has hosted 15 volunteers with 4 ESC/EVS projects. As part of these projects' activities, the youngsters from various European countries could improve their professional skills in project management, event coordination, and communication, build their personal capacities, as well as to extend their cultural horizons and discover Plovdiv and Bulgaria. What skills does ESC project with us improve in the youngsters?
Within the mobility, our volunteers have an opportunity to develop a multitude of different skills depending on their interests and ambitions. However, at BG Be Active as a part of the European Solidarity Corps activities we concentrate to develop certain common competencies.
Language skills
The working language in the team is English and the volunteers mainly communicate in this language. Our volunteers arrive with a different knowledge of English, but by the end of their mobility they significantly improve their English, both on the professional and personal levels, and become more confident. The project helped them improve their writing and speaking skills and better communication. 
Due to difficulty of Bulgarian language, the communication in Bulgarian is limited for most of volunteers, but within their project they still manage to master their basic knowledge of Bulgarian. As a rule, most of our volunteers learn basic vocabulary and Cyrillic alphabet to be able to write and have a basic conversation. The volunteers from Russia are at an advantage, as they get to obtain a higher level of understanding in Bulgarian.
Project management and communication
Within the project we have a wide range of activities for the volunteers covering three major areas – communication, project management and event management. Within each of them, our team has a staff coordinator to track volunteer's work and supervise their learning process. During the project, the volunteers willing to develop communication skills learn the basics of working with social networks and websites, doing media monitoring, writing articles, strategizing the communication and social media posts, working and covering stakeholders, working with hashtags. Within the event management area, our volunteers learn the basics of organizing events (meetings, workshops, etc.) by preparing events, assigning tasks, preparing materials, etc. They discover a full circle of event organisation and teamwork. In the project management, we ensure that our volunteers get acquainted with the project management key processes (implementation, reporting, monitoring etc.). They also get involved in research work, information search, organization of international meetings, reporting.
Practical habits on the topics (physical activity, placemaking)
During the project, our volunteers also get acquainted with the concepts of physical activity and placemaking. As BG Be Active promotes sport for all movement, we tend to differentiate physical activity and professional sport and promote our initiatives accordingly. In placemaking we promote the principles of inclusivity and participation. During the project activities, the volunteers have a chance to learn more about the concepts, as well as to get to know the organizations and people working on these concepts at the European level and build new friendships.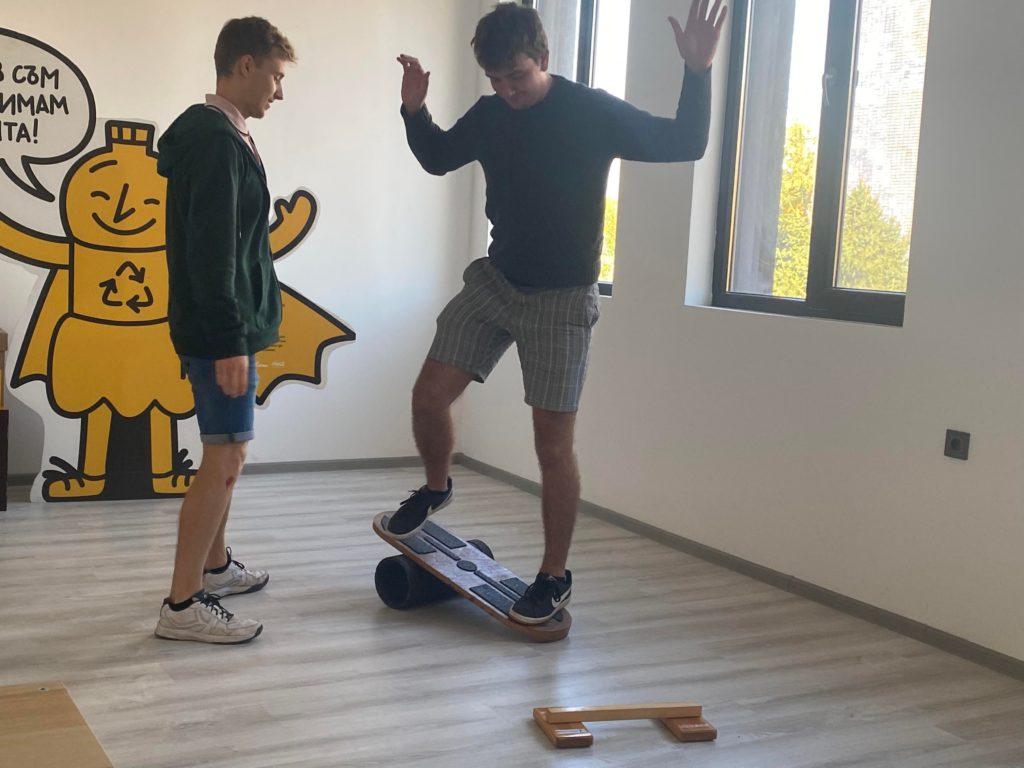 Soft skills
We actively encourage volunteers to obtain soft skills.
● Entrepreneurial skills and taking responsibility: our volunteers are involved in event management, planning and reporting. They are responsible for a specific activity, workshop or venue at the event and have to perform specific tasks related to the event. Volunteers learn to think creatively and take responsibility for their assigned tasks.
● Social and civic competences: volunteers work with young people from Bulgaria and communicated with each other. Coming from different backgrounds and countries, they learn how to interact with each other as well as with other people and find solutions to different challenges
● Cultural competences: our activities strengthen European solidarity and improve the understanding of different European cultures, with the volunteers living in an international group and participating in different international projects of the BGBA.
Upon completion of the project, these habits benefit volunteers in their future work.
The Youth Spot Bulgaria is funded by the European Solidarity Corps programme of the European Union. The European Commission's support for the production of this publication does not constitute an endorsement of the contents, which reflect the views only of the authors, and the Commission cannot be held responsible for any use which may be made of the information contained therein.